Introduction
A heart attack is one of the most deadly diseases of our generation. Just like any other disease, a good education can lower the risk of sudden death heart attacks. A heart attack is not only men diseases, but women diseases as well. Then there's the notion that only men have to worry about heart disease. "Many women think that it's a man's disease and that it can't happen to them," says Mary Ann Bauman, an Oklahoma City internist and the American Heart Association's 2012 Physician of the Year. Heart attack in women is our focus in this article. The first thing to know is the signs and symptoms of a heart attack in women. However, the diagnosis of a heart attack in women is more difficult than the diagnosis of a heart attack in men.
What is the cause of heart attack in women?
The general cause of heart attack in both male and female adult is Smoking, high cholesterol levels, high blood pressure, inactivity, excess weight, diabetes, and family history.
What are the signs and symptoms of a heart attack in women?
Some major signs and symptoms could indicate a heart attack in women:
 Chest Pain or discomfort.
Breaking out in a cold sweat.
 Lightheadedness or sudden dizziness
Unusual super body discomfort.
 Shortness of breath.
Unusual unexplained fatigue (tiredness).
The subtlety of heart attack in women.
Heart attack in women is more subtle than in men. The type of heart disease that's more common in women, called small artery disease or coronary microvascular disease. They are very subtle, but very dangerous as well. Most healthcare personnel do not appreciate correctly the early symptoms of a heart attack in women. The earlier a possible heart attack is detected, the greater the chance of overcoming the attack. Heart attack or heart failure is responsible for over 250,000 deaths a year among women in the United States. One in three American women dies of heart disease, making it the #1 killer. However, just like any other disease, a heart attack is preventable.
The most usual early symptom of a heart attack in women is unusual fatigue and sleep disturbance. Other symptoms included shortness of breath, indigestion, and anxiety. The most obvious symptoms of a heart attack in women include shortness of breath, weakness, fatigue, cold sweats, and dizziness.
At which moment of her life a woman is at the pick of risk of a heart attack?
A woman is at the peak of the risk of a heart attack when she stops to produce estrogen. Many factors have been shown to elevate the risk of heart disease for post-menopausal women, including the "deadly quartet" of chronic conditions that include diabetes, obesity, high blood pressure, and high cholesterol.2 Tobacco use also significantly increases the incidence of heart disease, which puts smokers – currently 20% of women in the United States – at additional risk. (Tobacco Information and Prevention Source (TIPS). 2004. Adult Cigarette Smoking in the United States: Current Estimates. National Center for Chronic Disease Prevention and Health Promotion. Retrieved January 25, 2006, from: http://www.cdc.gov/tobacco/factsheets/AdultCigaretteSmoking_FactSheet.htm).
What could be done to reduce the risk of a heart attack in women?
1. Education
the first thing you can do as a woman to prevent a heart attack is to educate yourself. Nothing can replace a good education about the heart attack. a book such as the one below could be a good starting point for you.
2. Exercise
Exercise is the next greatest means of preventing heart diseases. According to the
According to the American's government Physical Activity Guidelines,
To improve your overall health, do 150 minutes a week of moderate-intensity aerobic activity like:
walking briskly (3 mph or faster, but not race-walking)
water aerobics
bicycling slower than 10 mph
doubles tennis
ballroom dancing
OR
75 minutes a week of vigorous-intensity aerobic activity like:
race-walking, jogging, or running
swimming laps
singles tennis
aerobic dancing
bicycling 10 mph or faster
jumping rope
hiking uphill or with a heavy backpack
To improve your health, even more, increase your activity to 300 minutes a week of moderate-intensity OR 150 minutes a week of vigorous-intensity activity. If you go beyond either, you'll gain even more health benefits.
So to exercise is the way forward. You might choose outdoor exercise as well as indoor exercise and having good equipment will go a long way to provide the needed exercise for your heart. that is why we recommend the following two equipment.
2. Indoor cycling might just be the best exercise for your heart. To this end, you will need a comfortable Indoor Exercise Bike Cycling Spinning Bike Home Gym Cardio Training.
The Pentagon Tracker. (Free Gift)
You can get this Watch for Free Today, by just clicking here to claim it.
It is very comfortable for use. The bike is built with high-density sponge, non-slip for shock absorption and it is breathable.
Other Characteristic includes:
Full adjustability.

Seat forward and backward,up-and-down adjustment, and the handlebar top to bottom regulation function makes the best comfort when gripping the positions.

 Stepless Resistance Adjustment. This feature allows you to Choose a suitable RESISTANCE level by turning left and right to get the perfect effect.


YOGA MATS TO PROTECT THE FLOOR: Come with a yoga mat(120 x 61 x 1 cm) to protect the floor from the collision.

FLYWHEEL: Powerful and stable 28.7 lbs(13kg) chromed flywheel connected with adjustable pressure resistance, riding more smoothly.
3.  You may prefer a more sophisticated but comfortable machine such as the powerful Programmable bike: SOLE Fitness R52 Recumbent Exercise Bike available at amazon.

This bike has
24 levels of computerized auto-tension resistance with a 22 lb magnetic flywheel system.
To make your training more relax and enjoy, you can listen to music while training through the Bluetooth 3.0 Speakers from any enabled smart device. For your comfort,  the machine is built with Stationary handlebars with dual contact heart rate grips on side seat handlebars, articulating pedals with adjustable straps, with true 'step-thru' frame design, and a  6.5-inch blue backlit LCD screen with 28 program options and real-time feedback displaying time, speed, distance, calories, pulse, level, laps and heart rate.
 How can you Prevent Heart Attack?
Some people think that strict changes in diet and lifestyle are not enough to prevent heart attack. They can be farther from the truth. Your eating habit and overall lifestyle are the main determinant of a sudden heart attack or not.
Research shows that a vegetarian diet plus moderate exercise and yoga could produce a reversal of atherosclerosis, a blockage of the arteries that can lead to a heart attack, in men and women who were strict in following the daily regimen.
This is the opinion of experts who confirmed in a report study that such blockage can be reversed without using cholesterol-lowering drugs or surgery. The Sais study was conducted by Dr. Dean Ornish, director of the Preventive Medicine Research Institute in Sausalito, Calif.
This is a tremendously important study in the control of heart disease. It's the very first study indicating regression of coronary heart disease without pharmaceutical intervention. The results also suggest that the current medical guidelines for changes in the habits of people with severe heart disease do not go far enough.
Many studies have confirmed that regular exercise and diet changes can slow the progression of heart disease, but not reverse it.

Conclusion
Heart attack symptoms in women are more subtle than in men. This is particularly dangerous because this makes them fail to take preventive measures, heed warning signs, or seek treatment for symptoms. Understanding the complexity of a woman's symptoms of heart and cardiovascular disease could greatly assist nurses and other health care professionals in designing interventions both to promote cardiac health awareness and to decrease treatment delay – key components in survival and recovery.
Testimony
I have to admit, I'm no longer the young, able-bodied boy I used to be. Age has caught on with both my mind and body and at times I wondered if there was anything I should be living for when my body is failing me and I can't achieve all the things on my bucket list. I'm riddled with diabetes, and along with it came hypertension, swollen feet, painful nerves, constant headaches, and depression.
It's not easy being old, with your kids going on with their own lives and your partner also too frail to help with anything. My wife and I wanted to take a vacation to California on our own, but the plans fell through when I started getting constipated, often for many days without relief until I had to seek medical help. Laxatives helped temporarily, but it kept happening until I got tired of taking extra pills – in addition to my usual diabetic meds – just to be able to go Number 2.
Difficult as it was to get through the disappointment of canceling the vacation, my wife sought help from her friends and our neighbors, asking if anyone knew of a better way to help with my digestion, and our neighbor Daria helpfully offered a suggestion: Pure Natural Healing. It sounded way too good to be true – how can I cure my constipation problem without pills or a change of diet and if there was a way, why hasn't my doctor already recommended it to me?
Daria patiently explained it all to me. Doctors and big pharmaceutical companies pretended meridian therapy – also known as acupressure – didn't exist, because it was highly effective and cost next to nothing compared to their exorbitant hospital bills and pill prescriptions. If everyone knew about this natural yet effective method, no one would need to go to the doctors or psychiatrists to relieve their stress or treat mild ailments. Therefore meridian therapy hasn't gotten the widespread fame and credit it sorely deserves and instead is relying on enlightened persons like Daria and now me (and my wife) to reach out to others.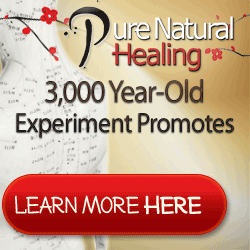 When Daria told me all of this, I still didn't believe her initially. I had no idea what she was talking about, and because I'd been ingesting pills all my life, I was suspicious of any method that claimed to be natural and without medication. But then she taught me a way to massage my meridian points to help with my constipation, and I started to believe. Because it worked. Within a day (although Daria tells me for her it took a few days to feel the effects), my bowels were revived and I successfully purged myself of the waste my body had been hoarding inside. Just within a day!
After this happened, I purchased a copy of Pure Natural Healing for myself and my wife, and we began exploring all the techniques inside. There was a video on something called the Qi-Flexercise, which was supposed to boost your immune system and aid digestion, preventing constipation. We watched the video and did the steps accordingly, which was fun because we seldom had the energy to even take a walk, much less exercise together. The great thing about these methods is that they aren't vigorous at all, and require mere minutes to execute. We were so inspired by my resolved issue of constipation that we wanted to get the most out of this guide as fast as possible!
Both my wife and I felt eons better than we've had in years when we performed the exercises together. You can do them on your own, but it's a bonus when someone can massage your neck or head for you. We also tried out the high blood pressure massage, and stress and anxiety relievers. And because of the improved blood circulation, my feet were no longer swollen. Although to be frank, I didn't realize the full effects of these exercises until I went for my routine checkup three weeks later, and my doctor praised me for managing to lower my blood pressure levels. I was stunned. I told him about Pure Natural Healing and he too was quite astonished at how quick its results were. He then said he would try it out for himself. I can't wait for my next checkup to see how he would react when he realizes how effective it is!